For those who know me know I can be found quite often on the Roof at Patroon (See Hang Outs) with a glass of Jack Daniels Old No 7 (Thank You Frank Sinatra) in one hand and a AVO Classic No 2 in the other, discussing my latest trip to Las Vegas.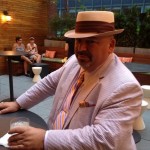 We shall explore my thoughts about my three favorite things.
PLEASE REMEMBER THAT PERSONAL TASTE IS THE MOST IMPORTANT THING TO DETERMINE IF SOMETHING IS GOOD.  SO WHEN I REFER TO THE BEST IT IS BASED UPON MY TASTE.